The Lytle Park Hotel is a member of Marriott's premiere Autograph Collection of hotels, next to downtown's Lytle Park. Opening in February 2020, this venue will have two beautiful spaces – the Magnolia and Vista at Lytle Park – to host wedding receptions in the coming year.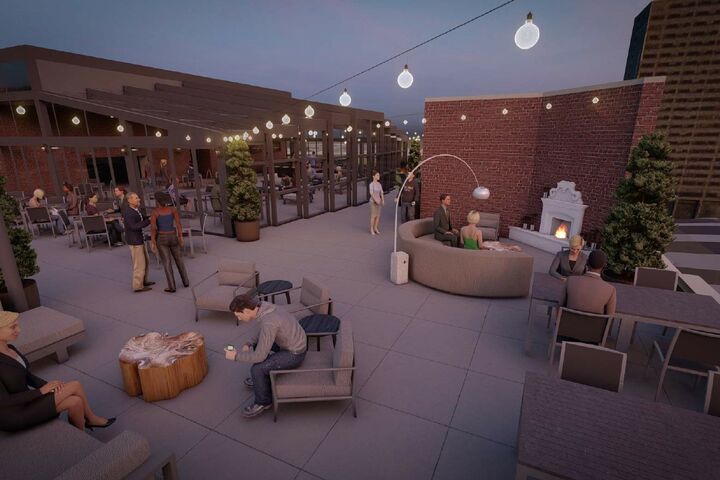 Situated in a quite, historic corner of downtown, the building formerly housed the charitable Anna Louise Inn and was built in 1909. Western & Southern forced the inn to move in a contentious battle, and over the past few years has extensively renovated the historic building inside and out. Opening in early 2020, the new 109 room hotel will be one of the premiere places to stay – and celebrate – in the region.
Magnolia
The Magnolia and Magnolia Terrace have park-level views. The terrace allows guests to enjoy the outside space and fresh air, while inside has soft color palette and elegant design. Capacity should end up being around 100 people.
The Vista at Lytle Park
There are a handful of rooftop wedding venues, including another looking over Lytle Park, but few can top the amenities of this one. The Vista will have a retractable glass roof, and large floor-to-ceiling windows. This space will have views over the park, as well as of the Ohio River and downtown Cincinnati. The capacity is approximately 100 people.
Additional Services
As part of a high end hotel, a number of services are available or included with rentals. In-house catering will be available, along with valet parking, lighting and decorating services, florists, and more. As a hotel venue, reduced rate room blocks will be available as well.
Details

The Lytle Park Hotel, Autograph Collection – Website
311 Pike Street
Cincinnati, OH 45202
513-621-4500