The beautifully restored Burnham Hall Ballroom in the Renaissance Cincinnati Downtown Hotel was built in 1901 and designed by legendary architect Daniel Burnham. Part of what is commonly known as the Bartlett Building, this structure was the tallest building in Ohio when it was completed, and in 2014 was re-opened as a local outpost of the Renaissance Hotel chain in the heart of downtown at the corner of 4th and Walnut. It has become a premiere location to hold weddings and receptions in the Cincinnati area.
Weddings at the Renaissance
Wedding packages at the Burnham Hall Ballroom are all-inclusive, and include in-house catering, tables, chairs, linens, the dance floor, and a cocktail hour and four hour reception. All wedding packages include a night stay in one of the hotel's suites for the bride and groom. This is a higher-end venue, but pricing is only available upon request after a consultation.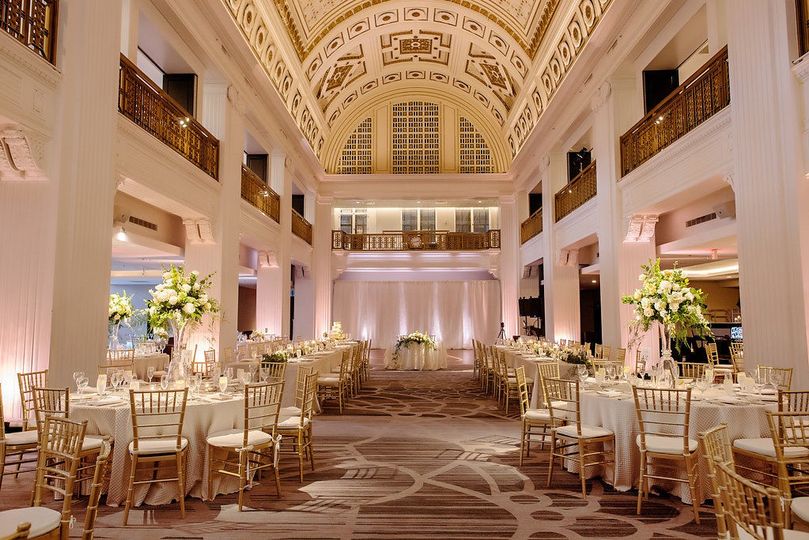 The space is large, both in area and volume. With a capacity of 400 people, this is one of the larger reception halls in the downtown Cincinnati area. Including additional spaces and rooms, there's up to 14,400 square feet of space available, of which the ballroom itself takes a large portion.
The showstopper, in my opinion, is the 40 foot high barrel-vaulted ceilings with incredible detailing and accents. A second level looks down onto the ballroom's floor, but is largely used just for photo opportunities.
Wedding ceremonies can be held here in addition to the reception.
No on-site parking is available, but valet parking is available with the hotel, and ample parking is available on the street and in area garages. The ballroom is on the second floor, and is handicap accessible through the many elevators.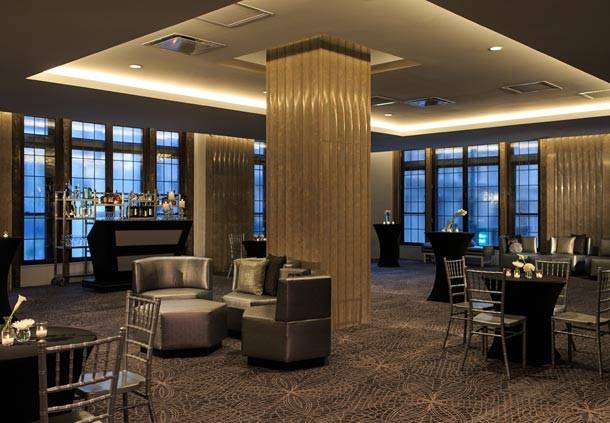 Amenities and Nearby Attractions
The closest hotel is of course the Renaissance, home to 323 guest rooms and 40 suites. The Renaissance is at the high end of the local hotel market, and many other affordable hotel rooms are available within a few blocks.
Also nearby is Fountain Square, the Banks along with the Reds and Bengals stadiums, Smale Riverfront Park – a very popular photo location, and many bars, restaurants, and other attractions.
Details
Renaissance Cincinnati Downtown Hotel – website
36 East Fourth St
Cincinnati OH 45202
513-333-0000