Old Carnegie Libraries across the country have found a second life as event centers – including another in the area in Newport, and the primary reason is their beautiful architecture and design. The Carnegie Center of Columbia-Tusculum is one such venue, with a beautiful brick and stone exterior, concentric patterned wood floors inside, 22 foot ceilings, and other beautiful details.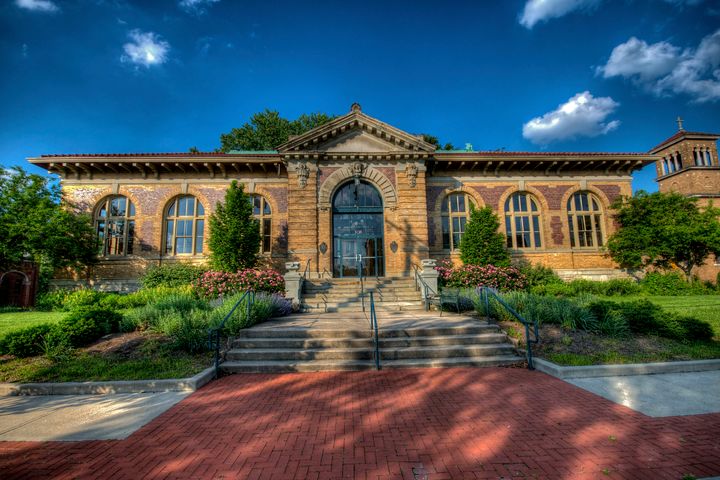 The Carnegie has a seated capacity of 200 people across its three rooms (the Foyer, East, and West rooms). Due to its nicely split layout, some people use the smaller East room for the wedding ceremony, and hold the reception in the West room, which has a seating capacity of 160. It has been retrofitted to be handicap accessible.
Rental Rates
The Carnegie Center is a non-profit community center serving the east-side neighborhood of Columbia-Tusculum. Thanks to this, rentals are pretty affordable here, and as a bonus support the mission and programming of the center. Saturday rentals run $1,900, while Friday and Sundays are $1,200. Further, off-season rentals (Jan-March) are 20% off. Rentals include all-day access to the space for setup, decorating, and cleanup. Enough tables and chairs are available for free use. Setup, cleaning, and linens are not included.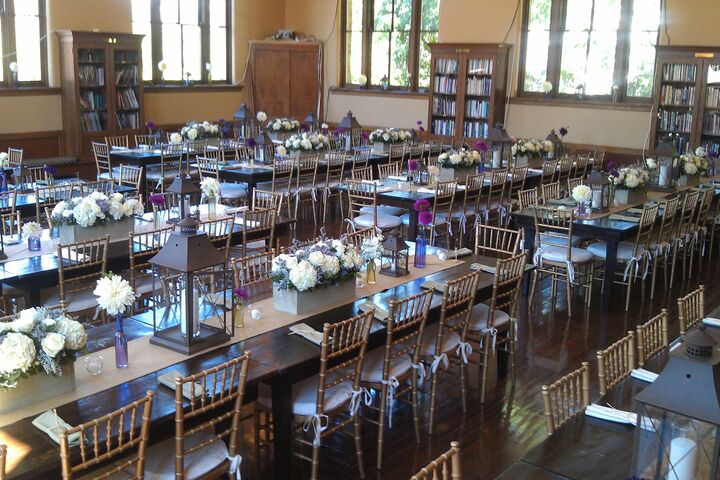 This venue is a very popular one, with prime summer Saturdays being booked solid a year in advance. As of late 2019, summer of 2020 is almost full, and they are taking reservation in 2021.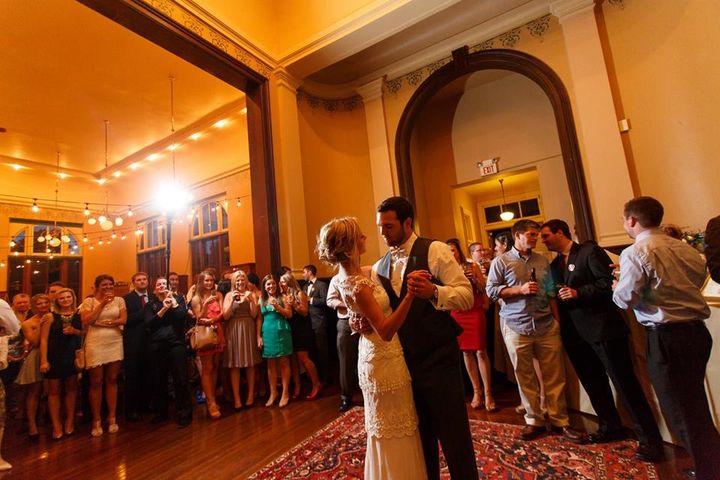 Catering and Services
Catering is available exclusively through Jeff Thomas Catering, an award-winning caterer that is still affordable, with per-plate options starting at $23.95. A catering fee of 10% applies on top of this, along with tax. You will also contract through them for table, chairs, and cleaning.
One major cost-saving area is you can supply your own alcohol here. Alcohol must still be served by Jeff Thomas.
Ample free parking is nearby, primarily on-street but also in two small lots the center has arranged for use.
Details
The Carnegie Center of Columbia-Tusculum – Website
3738 Eastern Avenue
Cincinnati, OH 45226
513-473-5745