The Contemporary Arts Center is Cincinnati's destination for modern art. Located at the epicenter of downtown nightlife and housed in one of Cincinnati's architectural trophies, this stunning space is the perfect location for an arts and entertainment loving couple.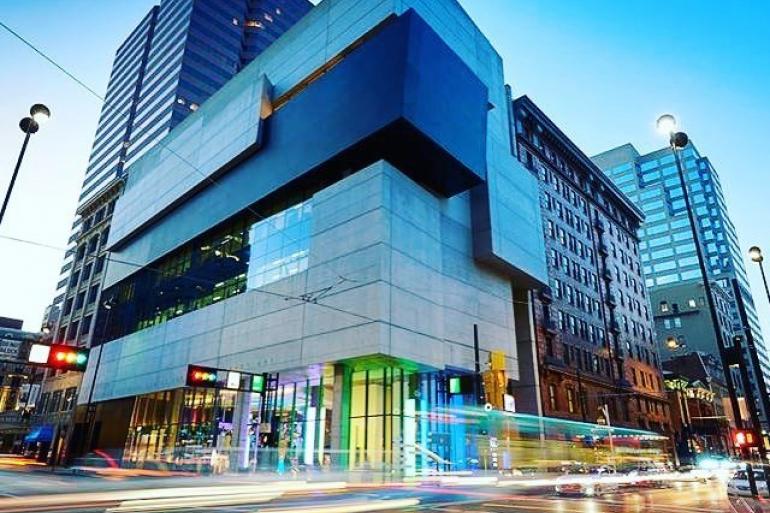 The CAC is housed in Zaha Hadid-designed Rosenthal Center for the Arts. Hadid was an internationally renowned architect – frequently deemed a "starchitect" – who's design was hailed by the New York Times' architecture critic as "the most important American building to be completed since the cold war." The striking structure, situated on a prominent downtown corner, is a gem of downtown.
The Dr. Stanley & Mickey Kaplan Hall
The most common wedding reception location is in the main lobby, known as the Kaplan Hall. Located at street level with floor to ceiling windows lets the surrounding urban landscape and life serve as the backdrop to your reception. The lobby feature white, black, and bare cement decor, serving as a neutral palette and the opportunity to personalize the appearance with lighting and decorations. The lobby seats up to 210 people making it the perfect size for many weddings.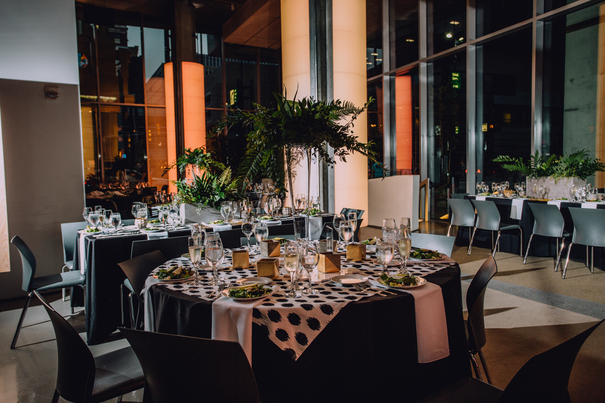 Rentals at the museum include private spaces for the bridal party and the groomsmen to prepare for the wedding. A children's space (the UnMuseum) is available to occupy your younger guests attention while you have your ceremony. A select list of caterers are provided for you to choose from.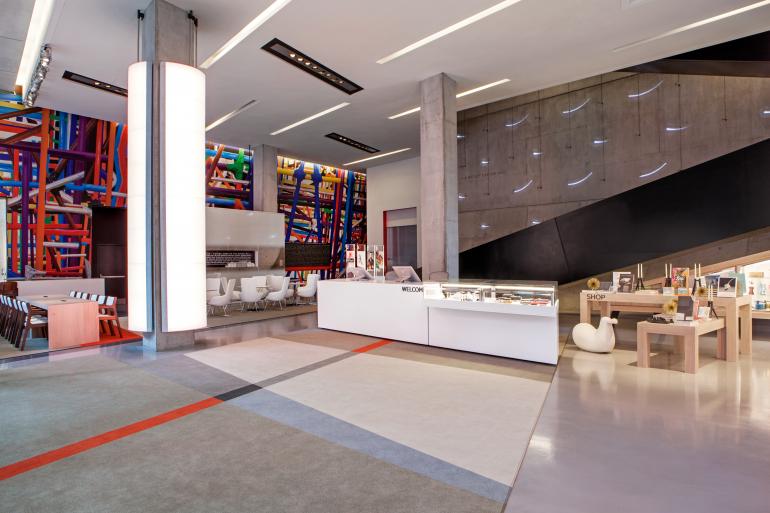 Additional spaces for rent include the basement called the Black Box Performance Theater – notable for its black walls, floor and ceiling, and Lower Lobby Lounge, both located in the basement.
Sidebar: Enjoy the Museum for Free
Thanks to generous donations and a strong patron's drive to enable all to enjoy art, the C.A.C. has had free admission for all since 2016. We at Wedding Venues Cincinnati strongly encourage everyone to enjoy the groundbreaking art and exhibits on display at this great cultural institution.
Details
Lois & Richard Rosenthal Center for Contemporary Art – Website
44 E. 6th Street
Cincinnati, OH 45202
513-345-8415