A truly historic and beautiful venue for your wedding at The Monastery Event Center which is situated at the heart of Mt. Adams close to downtown Cincinnati. As known to many, Mt. Adams itself is also a treasure chest of history and the magnificent Monastery rest atop it like a shimmering treasure that amazes anyone who gets to see it. This venue at St. Paul Place in Mount Adams is a romantic ruin that was renovated in 2013 Towne Properties and Receptions Event Center with the purpose of transforming it into a premiere venue for special events such as weddings. After years of careful planning and work, it was finally opened in 2016. This iconic, more than a century old property was revived into the now magnificent building that is a favorite choice among many couples in Cincinnati and Northern Kentucky to celebrate that big day or exchanging their vows.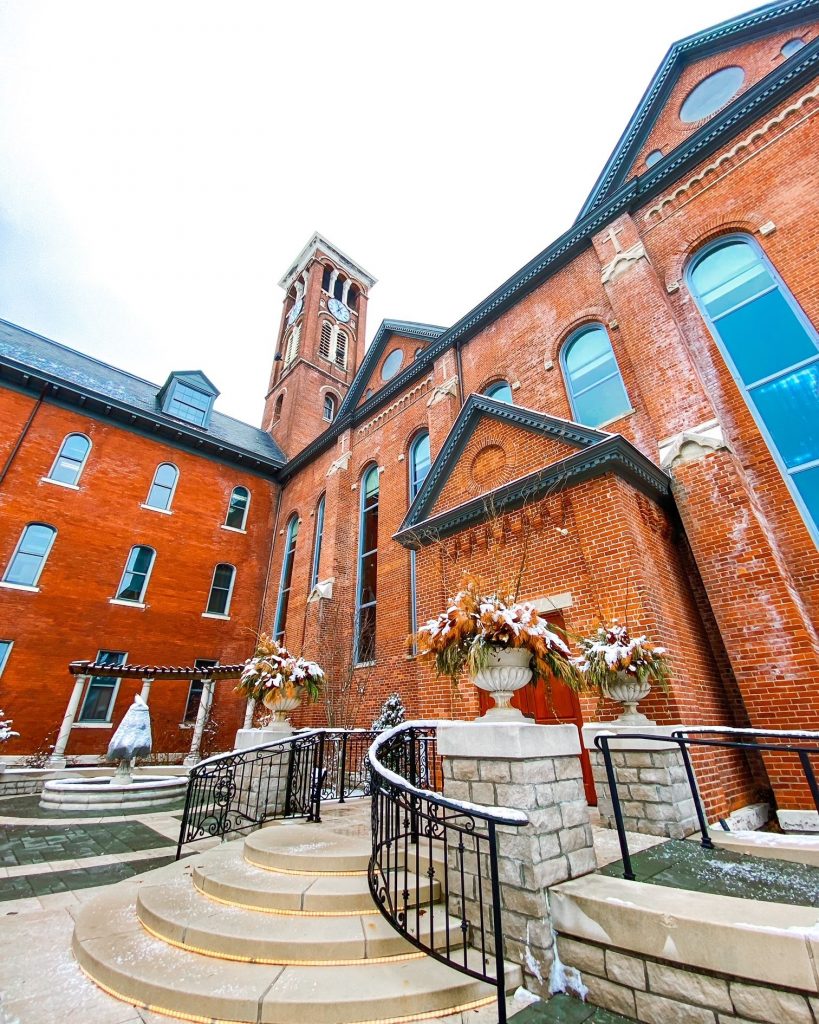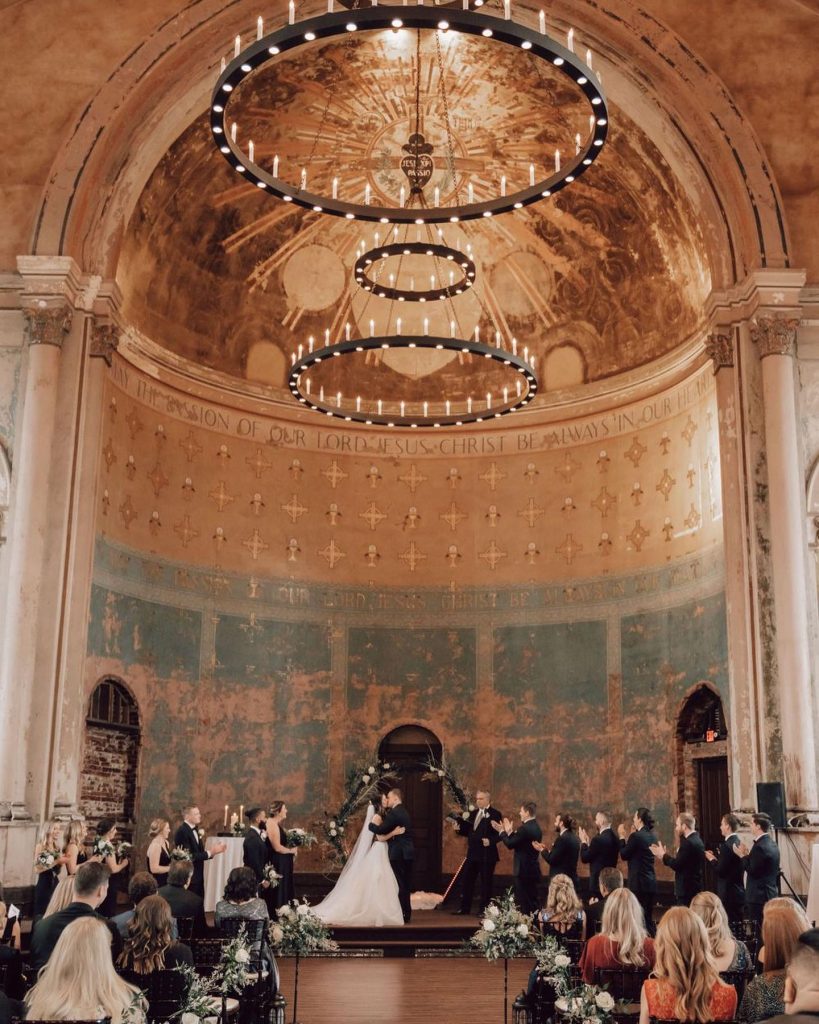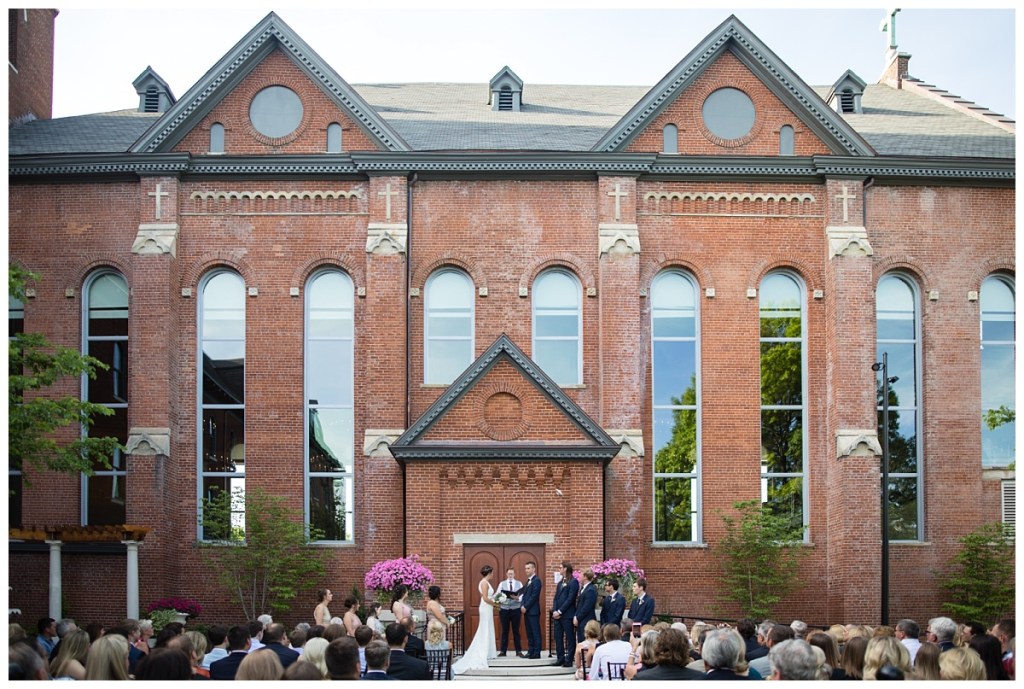 The transformation of the Monastery was done successfully as they have manage to merge the original and existing elements of the building then combined it with modern decors, as well as amenities. Have a magical wedding backdrop of the historic and gigantic ceiling medallions, plus its exposed brick walls while at the same time you and your guests admire the grandeur of the newly added 750-pound chandeliers. They also incorporated a contemporary kitchen area and well placed rooms for pre-event purposes. Once in the event space during the wedding ceremony or enjoying the reception, you will surely feel the former glory of the Monastery with some church window shaped mirrors and vintage wedding photos that were once held in the building; call it love nostalgia. There is also that locally made mosaic medallion that anchors the lobby floor and somehow gives honor to the church's history and its home in Mt. Adams. With the stunning combination of both historic elements of the Monastery and state-of-art designs, it is now referred to as the 'Romantic Ruins'.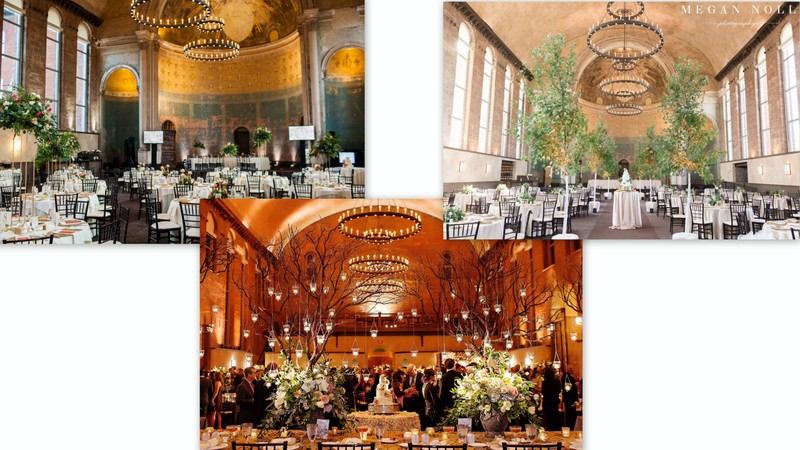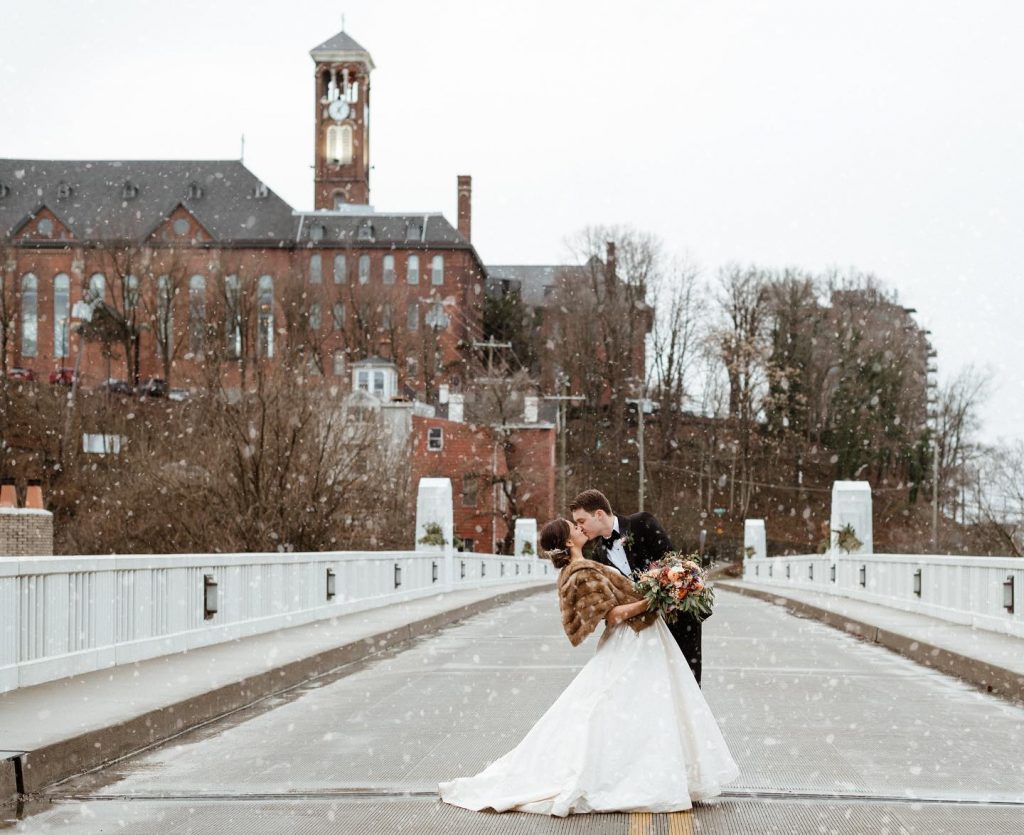 Below are the amazing guests' privileges (from their website) you'll have once you book the Monastery as your wedding venue:
Exclusive use of the historically registered property at the top of Mt. Adams dedicated solely to your event – no other events or ceremonies will be scheduled.
Exclusive use of the private, well-manicured grounds with unlimited access to surrounding views and property for unique photo opportunities, select gatherings, guest cocktail hour or memorable ceremonies. Consider also, the charming and alluring neighborhood that adjoins the property for after-parties, rehearsal occasions and photography.
Exclusive use of the Bride's Suite and Private Powder Room for the bride's comfort. Private Use of the Groom's Room & Bridal Staging Area.
Full access to abundant, well lit, free parking – a notable feature in Mt. Adams.
Upon guest arrival, a Monastery attendant will be stationed at the top of Pavilion Street and St. Paul intersection to direct guests. Plus, personalized signage at St. Gregory and Pavilion will be included to direct guests to the property's private parking.
Professional coordination & scheduled early admittance for all vendors or sub-contractors providing goods or services for your event.
Personalized menu cards created, professionally printed and set on Gold or Silver charger plates at each place setting.
The Monastery provides etched champagne flutes for the bride & groom as keepsakes. Notably, your champagne toast features the Monastery's private labeled "Golden Wedding" champagne. This is historically significant because Nicholas Longworth (1830 "The Father of American Wine Industry"), purchased land in Mt Adams for vineyards where he produced America's first champagne called "Golden Wedding". It achieved recognition & awards across the Atlantic. This piece of history is unique to your special event and is memorialized in your glass flutes.
Advanced planning assistance, customized room set up and professional event coordination detailing all aspects of your special event. Dedicated, experienced executive chef and culinary staff; skilled banquet captains; TIPS certified bartenders. Professional orchestration of all elements relating to your event.
The property is on the historic register. It is being vigilantly kept intact. Additionally, it has been awarded LEED Certification through a careful restoration focused upon the environment. The USGBC states LEED properties save "resources and have a positive impact on the health of occupants, while promoting renewable, clean energy." It is meaningful to a community when the interests of historic preservation can lock arms with concerns for safeguarding the environment and advance together into a better future- honoring the past and respecting our children's future.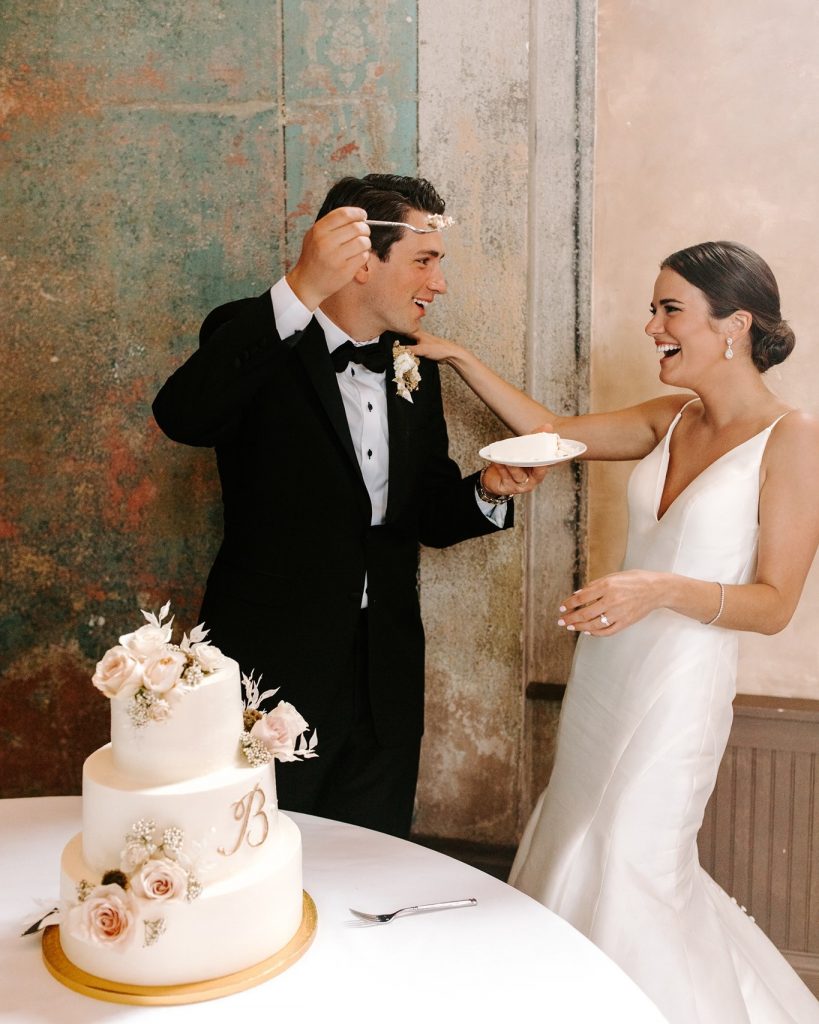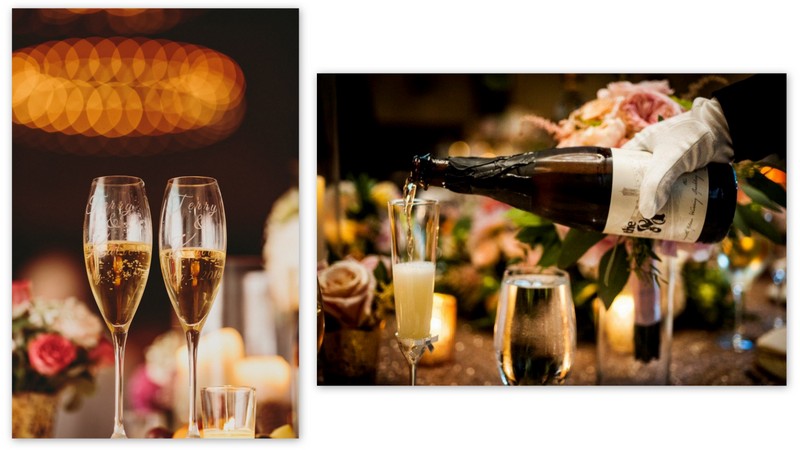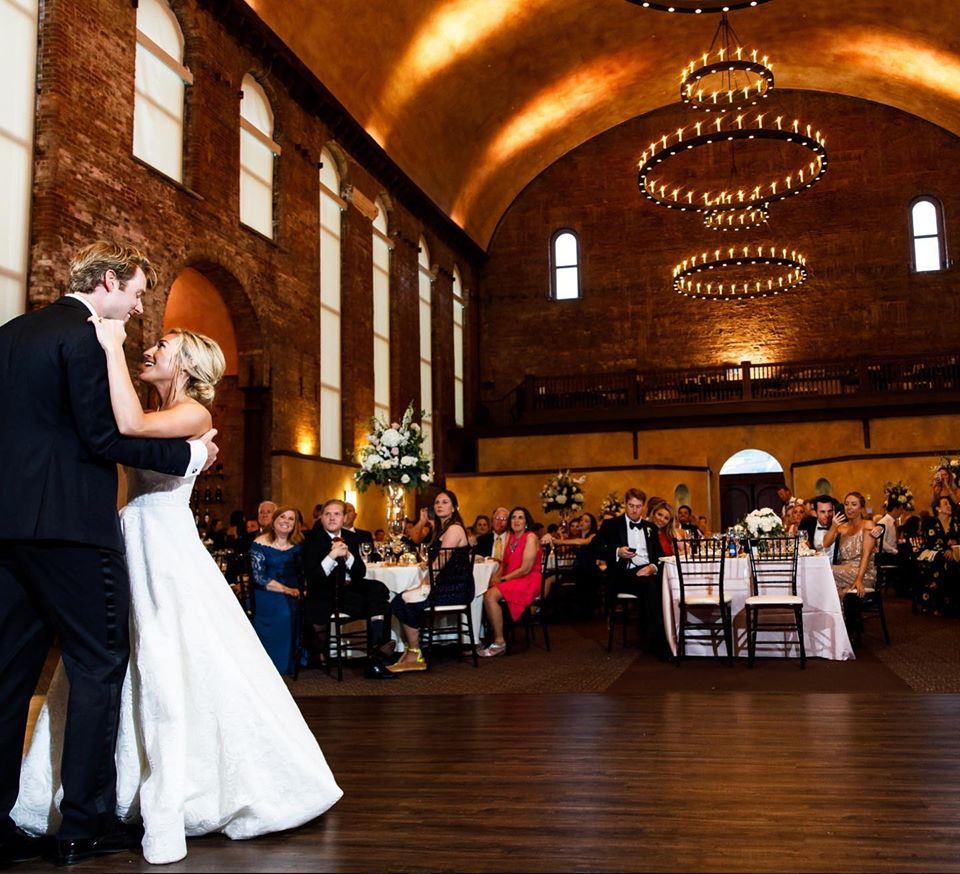 The Monastery Event Center is able to accommodate up to 350 guests. You can choose from their wedding packages and menu options that are both created for customer's ultimate satisfaction; just talk to them and see which one suits your event best. They have a team of professionals that will cater to your wedding needs, including food and drinks (they have a liquor license too) ; basically assisting you in making sure everything goes smoothly with your wedding planning and that you will achieve the best day you imagine it to be. The Towne Properties having 50 years of history and impeccable reputation when it comes to property management, while Receptions Inc. boasts 23 years of recognized excellence in special event industry; your wedding event and venue choice will surely be a success. Call or message them now to book a tour and discuss with them your wedding vision.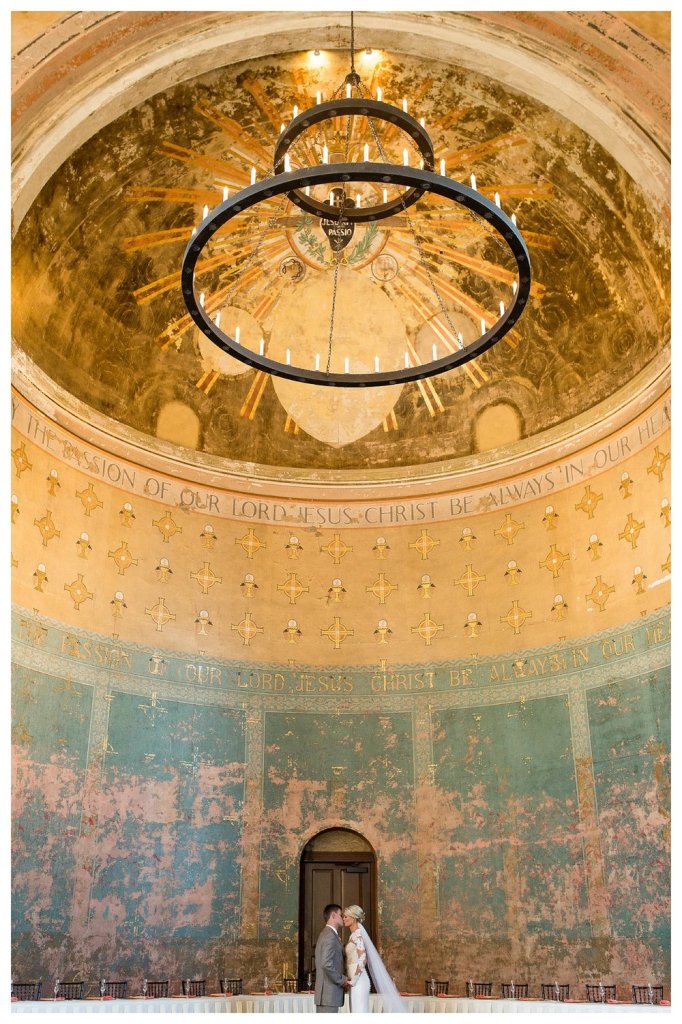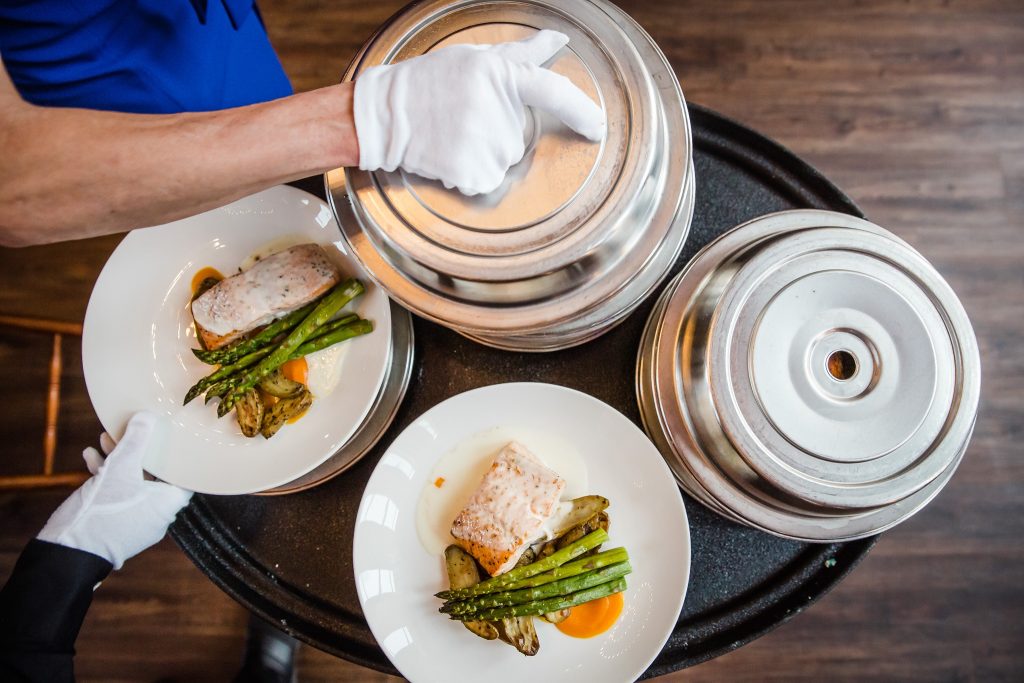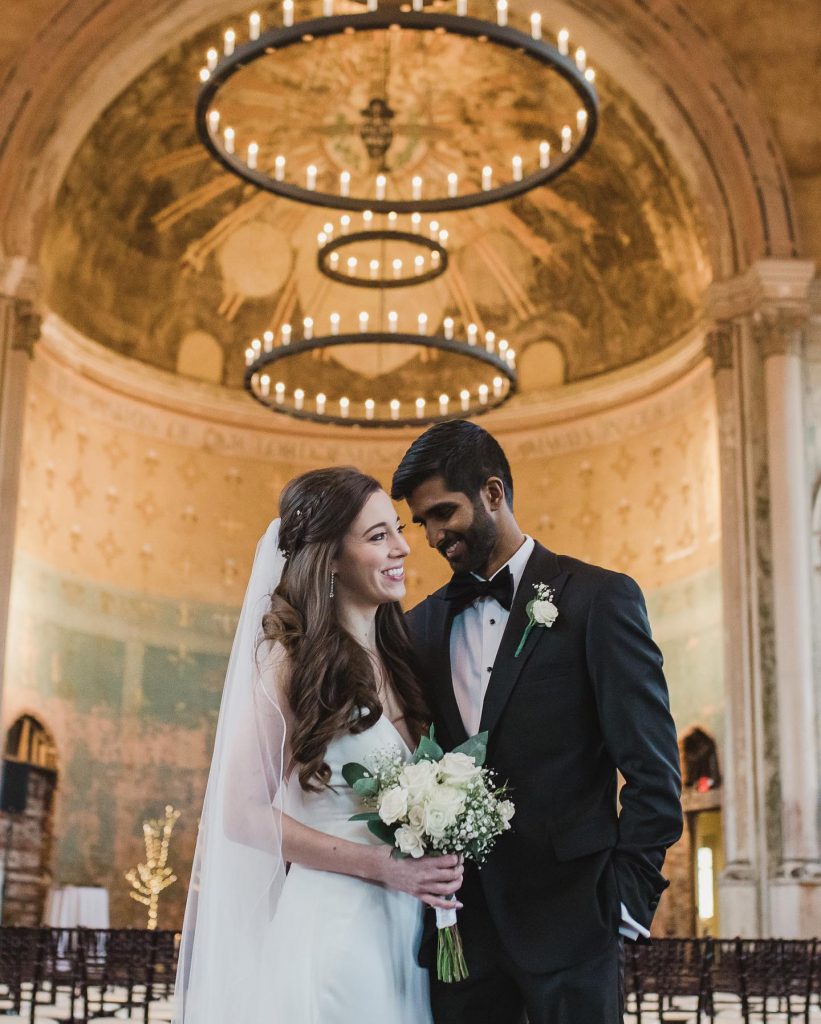 Details: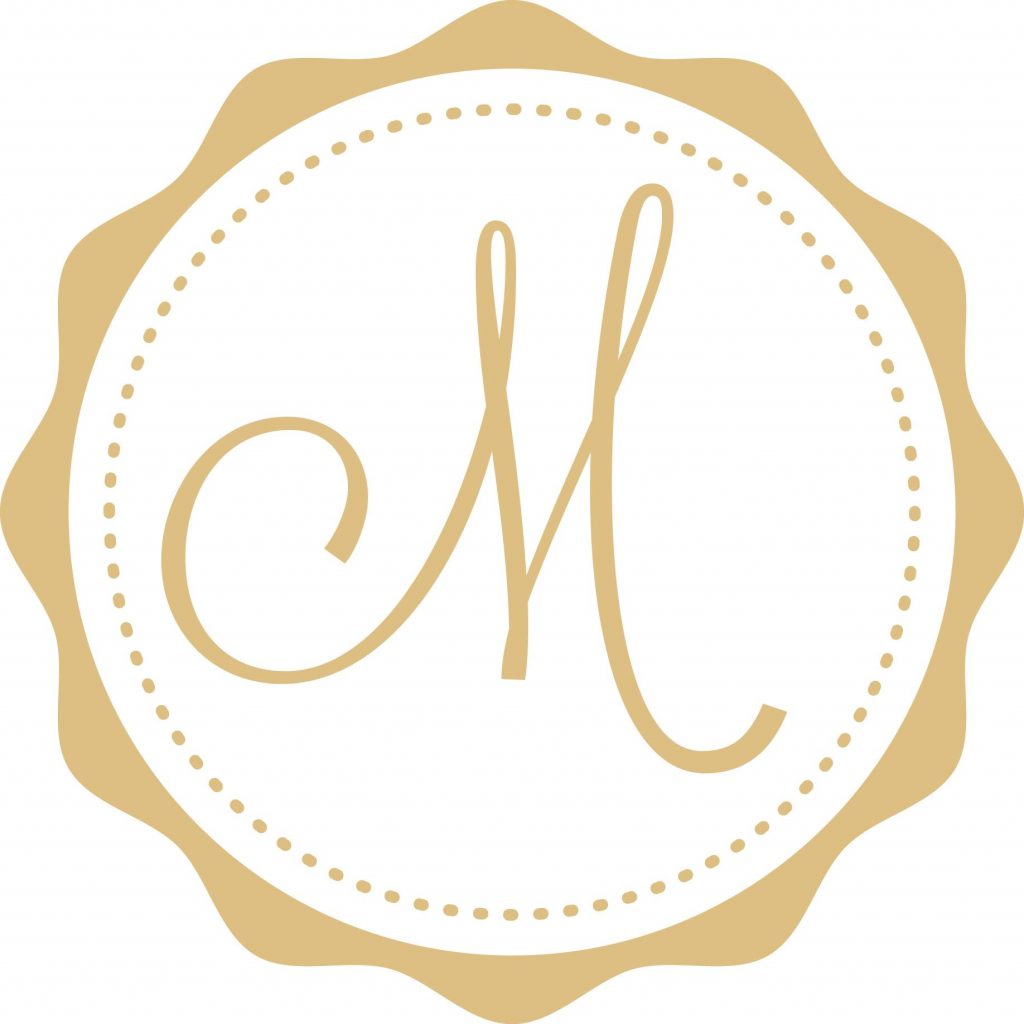 Address: 1055 St Paul Pl, Cincinnati, OH 45202, USA
Website: http://www.monasteryeventcenter.com/
Phone: +1 513-888-8694
Email: events@themonasteryeventcenter.com
Social Media Accounts:
Facebook: Monastery Event Center @MonasteryEventCenter
Instagram: monasteryeventcenter
Amenities:
Ceremony and Reception Area
Bride and Groom Suites
Indoor Event space
Covered outdoor area
Event Set-up
Planning Assistance
Parking Spaces
Full Bar/Lounge
Fully Equipped Kitchen
On Site Accommodations
Liability Insurance
Handicap Accessible
Liquor Licence
Theme: Romantic Church Ruins
Guest Capacity: up to 350 guests
Number of Function Rooms/Spaces: 1
Special Romantic Offer: Etched champagne flutes for the bride & groom as keepsakes; plus a champagne toast that features the Monastery's private labeled "Golden Wedding."
Reviews:
Reviewed On Oot.9, 2021 by Evan Dallas
Monastery Event Center Facebook Page
Wonderful venue with a beautiful room for a ceremony! And the acoustics are wonderful. I highly recommend it. Great and helpful staff!
Reviewed on Sept.30, 2021 by Mike Braddock
Monastery Event Center Facebook Page
My daughter's wedding was held at the Monastery on Sat. Sept. 25th. The Monastery is a first class wedding venue facility. The focus on Quality is evident from the start. Doug, Trevor & staff are great to deal with. The food is outstanding. The Monastery has a list of vendors for flowers, music, etc. that is first class and all of the vendors, in our experience, interacted seemlessly with the Monastery personnel. The real "secret sauce" that makes the whole experience come together and complete is the event coordinator, Kris. She is simply fabulous. Kris brings an infectious smile, customer focused can-do attitude and attention to detail that is second to none. IMO, with Kris, you do not need a wedding planner for the day of the event as she has everything covered from beginning to end. I highly recommend The Monastery Event Center. However, the facility books far in advance (over 12 months) so some advanced planning may be required in order to hold your wedding at this venue.
Reviewed on August 29, 2021 by Elizabeth Erdman
Monastery Event Center Facebook Page
The venue was a perfect place for a wedding reception. The staff was very friendly and professional and very accommodating. I can't say enough about the food it was so delicious the chicken was tender the steak was very tender and everything was just delicious. No complaints whatsoever!!!
Reviewed on Aug. 18, 2021 by Juan Sebastian
Monastery Event Center Facebook Page
An amazing venue with extremely supportive staff throughout the marriage process of planning and day-of festivities. If you're looking for somewhere to have your ceremony and/or reception, the Monastery is the best place to do it!
Reviewed on March 9, 2021 by Megan Driscoll Boyle
Monastery Event Center Facebook Page
If could give this place 100 stars I would. We held our wedding here last weekend and I knew it was going to be amazing, but I didn't know it was going to be perfect. I never spent a moment that night (or at all) thinking or worrying if things weren't going to go according to plan. This is THE BEST spot to get married in Cincinnati hands down. I would encourage all brides to stop your search here! Trevor is extremely responsive, detail oriented, and doesn't miss a single aspect. Doug is probably one of the most caring people I've ever met, and he went above and beyond to make sure we were happy not only on the wedding day, but during the year long planning process. There are no words to describe how important/special Kris made my husband and I feel. The night of our wedding I didn't feel like Kris worked for the monastery, I felt like she worked for us. I never even went to the bar for the drink that night, Kris never let my hand be without a full drink. Just down to the smallest details this woman did it all!! She worked her butt off that night. These 3 people are the best in the business. And the food was top notch!!! Most weddings I've attended the guests barely touch the food because it's very hard to make great food for large groups of people. But this food was phenomenal. I wish I could remember the chefs name, but he was outstanding. My guests are all raving about every minute of our wedding. I could go on for hours and hours about how perfect the planning process and the wedding was. If you are looking for an absolutely gorgeous venue, impeccable customer service, 5 star food and flawless execution – you've found your place!! The only thing I'm sad about is that it's over!
Reviewed on Oct.25, 2020 by Lisa Fallon
Monastery Event Center Facebook Page
There are not enough adjectives to describe how awesome the staff is at the Monestary. So professional and welcoming into the whole process. Our night went off without a hitch. The food is to die for!!! Hats off to the chef. Thank you again to Doug, Trevor, and Kris for making the day so special.
Reviewed on April 18, 2020 by Amanda Donaho
Monastery Event Center Facebook Page
As a wedding photographer, I've often joked that all wedding venues should go through a "boot camp" at the Monastery to see how event service is done well. …and I'm not entirely kidding when I say that. The Monastery is EXCELLENT. They are the best of the best at what they do – truly. I can rest comfortably knowing my clients are in the best hands when they hire the Monastery to host their big day, and am assured myself as a fellow wedding professional that every little thing will be taken care of to assure a seamless working experience. I shoot at the Monastery a LOT (over 60% of my weddings are there this year alone) and I still never tire of the iconic, beautiful atmosphere & photo options available to me as a creative within their space. Incredible, in every way.
Reviewed 0n Nov. 25, 2019 by Dandy Woeste Wilson
Monastery Event Center Facebook Page
The event staff was phenomenal and the venue was so beautiful and so perfect for my son's wedding. I would highly recommend.
Reviewed on Sept. 28, 2019 by Andrea Calamari White
Monastery Event Center Facebook Page
Can't say enough amazing things about this place.. the venue alone is breathtaking and add onto that the impeccable service you get the entire stage of the planning (Lindsey brown is amazing the reason we didn't need a wedding planning or day of coordinator), the day of (the OWNER was there on my wedding day putting out tiny fires that were our fault and made everything go super smooth), and the food wait staff is the most efficient I've ever seen.. it allows you to spend more time on the dance floor and less time waiting for your second course or for them to clear your plate. In my option, the monastery is the only place to get married in cincinnati.
Reviewed on June 25, 2018 by Carla Lopez O'Keefe
Monastery Event Center Facebook Page
There aren't enough words to describe how AMAZING the Monastery is. Lindsey, Kris and the entire staff were truly a DREAM to work with from start to finish. It was worth every penny to have our April reception here and we would do it all over again if we could. The ambiance, service, attention to detail (specifically our display of over 5,000 homemade cookies) and food was everything we could ask for and more. We can't thank y'all enough for everything you did to make our wedding so magical and one of the best days of our lives!
Reviewed on June 11, 2019 by Katelyn Johnson
Monastery Event Center Facebook Page
If you are looking for a wedding venue (or event venue!) that is a "one stop shop" with an amazing and accommodating staff – look no further! The Monastery Event Center was the perfect place to hold our wedding ceremony and reception. Lindsey was amazing in communicating and finalizing details up to wedding day – from linen colors and food selection to floor layout and number of guests. While Kris executed those plans even better than I could have imagined at the rehearsal and on wedding day. This staff not only makes your wedding dreams come to life, but truly serves their couples. I cannot recommend the Monastery Event Center enough to engaged couples who are "venue shopping'"!
Reviewed on May 8, 2019 by Tara Euler
Monastery Event Center Facebook Page
We went to a wedding at the Monastery. It was restored with such care. Not too much to take away from the history but enough to feel current, functional and beautiful. The wedding had about 170 guests and everyone was served in under 20 minutes. Their staff are pros. Beautiful venue!