The Muhlhauser Barn is a historic barn venue located in West Chester. Originally built in the 1880's as part of the Muhlhauser-Windish Brewing Company in Fairfield, OH, the barn was dismantled and reassembled in Beckett Park.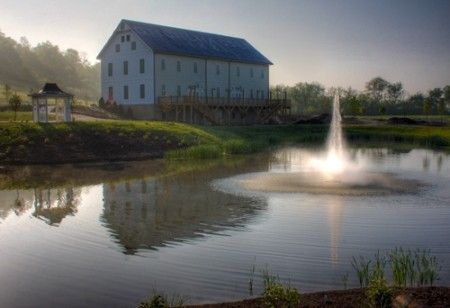 One of the larger barn venues in Ohio, the barn has a seating capacity of 220 people. Rentals, like many government owned venues, are affordable at $1,000 for a full day rental and include tables and chairs. It is a DIY venue, so expect to do most of the setup and cleanup work, or have someone do it for you.
Venue Details
The barn is a heavy timber-framed structure with exposed wood and a white painted exterior. Inside the barn are large, modern bathrooms, a catering kitchen, and a mezzanine level with seating for approximately 60 people. The main floor has a large seating area for about 160 people and a dance floor. Outside, a large deck overlooks the pond behind the barn. Outside is the Moerlein Gazebo, a popular place to host small outside ceremonies.

Rental Information
The barn is available to rent from April 1st through November 15th each year. The barn does not have any climate control – heating or cooling.
Reviews
Overall Rating: 5.0
5 Stars – We had our wedding here and the venue was beautiful for such an affordable price! The only thing I could've asked for would have been air conditioning. But if you open both the front and back doors, there is a great breeze and flow-through for air.

Abby G, November 28, 2019
Details
Muhlhauser Barn – Website
8558 Beckett Road
West Chester OH 45069
513- 759-3960